Happy belated 2012! Since my last craft market and the marathon crafting that led to it, I've been blissfully bored. Blissfully is not the best word, as I've been oscillating between actually studying during holidays and banging my head against a wall, so probably more bored out of my brains than blissfully bored. But still that kind of boredom only comes around twice a year which basically means one thing - holidays have arrived.It's the kind of wind down I need from a full year of medical school. Which on another note - I passed third year! Yay so now I'm officially more than halfway there - to sleepless night and antiseptic filled days, but at least I'll be getting paid. But I think I'm at the end of 'enjoying' my boredom and need to start being productive again, otherwise I'll just keep sleeping in way past noon and watching 2am reruns of The Love Boat. Which is actually quite a good show. If you are a night owl as well or you've watched the show, can you please tell me how Vicki ends up living on the ship? They were showing a really early episode where the Captain just meets her for the first time and then they went back to showing the older episodes again.
Anyways besides my insatiable curiosity regarding the storylines of The Love Boat, I decided it was time to start ticking some stuff off my to do list that's been on there since sometime last year. But in my defence it is very hard to take photos of yourself by yourself. Pruet's not very helpful as he thinks all photos are good as long as they are not blurry, which is kind of sweet I guess, but not helpful.
The first project I thought I'd tackle is a review of the free burdastyle pattern by miasu, The Contour Bust Dress. I've been eye-ing this project off for a while, for at least a year or so, but sewing clothes always seemed so daunting. There are curved lines and it has to fit properly, whereas with bags it's usually straight lines and you can fudge the measurements as you go. Either way I finally tackled my fear and managed to take some photos.
For more tips and review notes keep reading after the jump.
I really think that if you never sewn a dress or any piece of clothing before than this project is for you. It has clear instructions and as long as you are semi confident with zippers you should be ok. Or you can buy some knit/stretch fabric that doesn't need a zipper to fit it over your butt.
The only problem I had was with the skirt. I tried gathering it, pleating it, scrunching it but in the end I had 2 hours to go before I had to be at a party so I kind of did both – pleating and gathering. I tried using a loose basing stitch on my sewing machine and then pulling it but the gathers didn't look very good. I then tried pleating it but wasn't too happy with the result either. It looks fine far away but up close it's not that great, but I couldn't find a good skirt pattern. So the next project I have is probably a skirt and the one after that will be another one of these dresses. There is a free Marie pattern on burdastyle as well but I ran out of time!
The problem with gathering and pleating at the same time, and not knowing how to make a skirt was that my backside has a massive poof over it as the fabric doesn't sit very well, but as long as I avoid side on photos I'm fine.
I probably shouldn't have altered the pattern on my first try at making a dress but I couldn't help myself. I used a red cotton sateen I picked up, which is the kind of fabric used in most 'going out' dresses sold in stores. It has a slight sheen and is solid to work with. The original pattern uses piping to hide the raw edge of the top piece of the bodice but I wasn't too sure how it would look with cotton sateen, so I just cut two pieces of the top part of the bodice. I then sewed the 2 pieces together, turned it right side out and used it as I would a normal top bodice piece.
The other change I made to the bodice was that I curved the bottom part of the top piece of the bodice. The original version of the bodice can be seen below. I thought it would be a bit awkward to have a seam which went right across my bust, so I curved the top piece.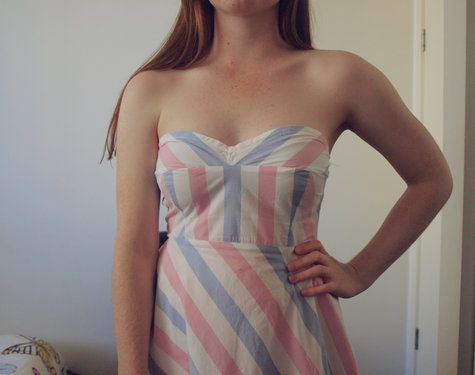 a little less awkward
I also added a waistband to the dress which was simple enough. I just cut a strip of fabric to add some definition between the waist and bodice as I thought the bodice might make me look little short(er).
The back part of the bodice also has two variations. For a more dramatic dip you can cut it lower or you can use the second higher line for a more modest cut. But since I'm not the biggest fan of exposing my back, I cut mine even higher with an added portion to fold over the top so I again wouldn't have to add the pipping.
I did also add pockets to the skirt of my dress, but for some reason they prefer to sit towards the back of the dress, i.e. the back of my thigh rather than sit nicely in the front of my dress. So you would think you are looking from the back of the dress, the way my pocket is placed, but you are actually looking at the front of the dress, and the pocket is pointing towards my butt.
I used a tutorial for an
elastic skirt with pockets
, to help me with my dress pockets. I'm a bit afraid to put stuff in my pockets just because I'm not too sure the bodice will stay up by itself if my phone is weighing it down. But the pockets are good for putting your hands and acting all non-chalet.
I also used a
tutorial by clever nesting
to attach my invisible zipper, which has the kind of step by step pictures I like to follow.
This is the invisible zipper at the back of my dress, fully functional I might add.
The colours are a bit weird, but you get the gist
Very happy with the pattern and instructions for making the dress by miasu. There are over 111 versions of the dress on burdastyle and counting, so definitely worth a try and a free download. Would love to hear your comments on the dress, tips to improve the skirt or from some kind reader who can tell me about what happens in the Love Boat.
Happy Crafting!
Mel