Dear, dear readers, I am so so sorry for been so horribly neglectful of my blog. I have been back from my overseas holiday for over two weeks now and haven't had the opportunity to post until today.
I actually arrived back a day late, for my first day of university due to flight delays! So I've been fumbling to find my footing during my fourth year of med school - the most hectic year to date. I'm currently on my general practice placement and I've been entrusted with my own room in one of my clinics and get to see my own patients. It's amazing - people tell you their concerns, and listen to your advise and you feel like a real doctor - gawh it's like finally seeing the light at the end of a very long tunnel filled with end of year cramming, mid year break downs and meticulously coloured flash cards which you constantly fear will get wet, so you carry them around in an airtight sandwich bag. I kid you not. Gel pen ink runs when it gets wet- it's a real fear I have.
I meant to post about fabric shopping in Thailand, but I'll save that for another post because I have another more exciting topic today. What is more exciting then fabric for $3AUD/m you ask? I finally used one of my bag clasps I've been hoarding - I bought a bunch thinking I would use it but it's taken me the better part of a year to incorporate it into a design.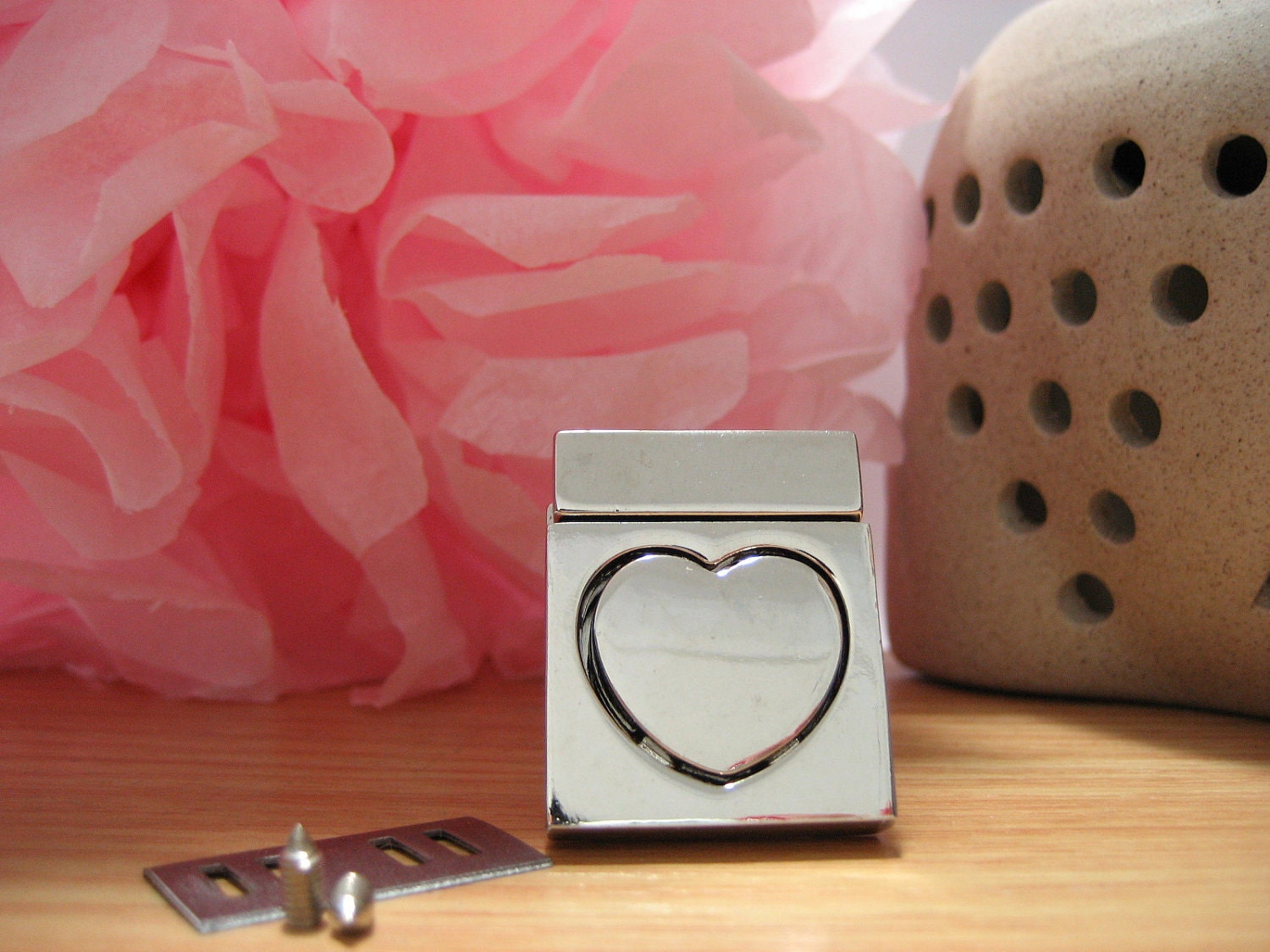 You push the heart and the top piece comes off.
I've had a stash of brown synthetic leather in my fabric stash for a while now - over 2 years I think! And I've been eyeing the new envelope clutch trend with an I could real make one of those, if only I could be bothered attitude. And then it suddenly clicked! I could use my fabric stash and my new bag locks. Which is kind of embarrassing because all the items have actually been sitting next to each other with a bunch of paper envelopes stacked neatly next to it for ages.
I'll post the tutorial up sometime next week/ this coming weekend as I need to tweak a few things and I'll show you my inspiration.
But here's a couple of pictures:
Keep reading after the jump for a peak at the inside and all it's features
The worst thing about going out is having to lug your whole wallet in your tiny clutch or losing all the essentials like ID, credit cards and coins as they roll around the bottom of said clutch. With this in mind I've included:
4 credit card slots which can each fit more than one card

a long pocket behind the card slots for cash

a zip pocket for coinage

a large pocket which can fit both an ipod + a phone
The clutch also has small D-rings attached to the lining so you can attach bag chains/straps for when your want to dance with both hands instead of awkwardly pumping your clutch into the air.
This is a close up of the credit card and zip pockets. If you are unfamiliar with Australian money then the pink thing stick up above the cards is actually a $5 note, not monopoly money that I stole or anything.
And if like me you don't own an iphone, and regret the inconvenience of not having your music on your phone and having to carry a second device, first world problems I know - this pocket can fit both gadgets in.
The only thing the bag is missing at the moment is a key hook because I hate fumbling around for mine on my door stoop when it's dark. If you can think of anything else that would up the functionality of the bag - post me a comment and I'll add it before I post the tutorial.
Also more photos of the heart shaped push lock in action. I mean I'm sure you all already understood the concept but I am easily amused and wanted to take photos.
Happy Crafting!
Mel
Ps. Thanks for sticking with me despite the sporadic posting.